Welcome to restaurant and mini-zoo Pannkaksladan (Pancake barn) in Höganäs
Open spring 2017: April 8-9, Saturday and sunday 11.30 - 17.00.
Easter 2017: Open thursday - monday 11.30-17.00
Summer 2017: Beginning of june until august 31 11-17. Some days extra open until 19.00. Check homepage and Facebook.
Open until september 2016: Saturdays and sundays 11.30-17.00
Last meal is served no later than 16.00 all days.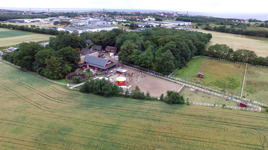 Pannkaksladan in Höganäs is a very special restaurant. We are famous across Sweden for our completely unique and different pancake-buffet. We do of course have other things on our menue for those who do not wish to eat from the buffet.
If You have any questions after reding this text, contact us by mail or phone

The buffet
When you order our buffet you get so much more than just pancakes.

All the drinks are included such as soft drink, water, coffee, tea and milk.

The "american" part of the buffet consists of american pancakes, chili con carne, chicken, pasta, potatoes, and a swedish kind of pancake that is cooked in the oven with bacon in it. Put some lingonberry on that!

We encourage our visitors to take two american pancakes, bacon and maple syrup one on of them and chili con carne on the other one (and perhaps some sallad and/or pasta/potatoes) to help experience the whole buffet.

The "swedish" part of the buffet is the part with all the sweet pancakes and topping. We have at the moment 14 different kinds of pancakes with different flavors. The most popular being chocolate, banana and vanilla and some of the others are licorice, coca cola, strawberry and coconut. This part also has different kinds of jam, whipped cream, chocolate pudding and sprinkles to have on top the pancakes.

Our latest addition to the sweet part of the buffet is our home-made pancake snacks. One is sweet spiced with sugar and one is saltier spiced with BBQ seasoning.

Also included on the swedish part of the buffet is our famous "deep-fried pancake", this one is almost like a donut. But don't try this one first or you'll end up too full to taste the rest of our delicious buffet!
Prices 2016

The sallad part consists of different kinds of fresh sallads, tomatoes, cucumbers and olives. Tomatoes mixed with red onions, coleslaw, béarnaise-sauce, garlicsauce and more! All of this is perfect together with the BBQ meals or together with the pasta/potatoes from the buffet.

BBQ
We have a few different kind of BBQ meals for those brave ones that feel they can take down this and the buffet. You can choose from baby back ribs, grilled chicken breast, brisket burger.
All of them can be bought together with the buffet.

We also have a smaller burger for the kids that do not wish to eat pancakes and can't eat the bigger hambuger menus.

Please note that if some of your company decides to order from the BBQ the waiting time will be aprx 20 minutes compared to those who order the buffet that can start eating right away.

About us
Pannkaksladan has been around as a restaurant since 2010. Every year we have approximately 30 000 unique visitors. Almost all of them order the buffet but we have alot of other popular meals here. Some prefer the BBQ menu and some prefer just a light sallad with a cup of coffee.

There are alot of different things to do here. We have a mini zoo with approximately 60 different animals, including horses, donkeys, sheep, goats, pigs, alpacas, rabbits and hens.
We have a newly opened paintball court where you can rent all the equipment for a few hours. We also have segways that you can rent between 15 minutes up to a whole day if you wish. For the kids there is a small car track where they can drive around in a controlled area on our mini-cars. Next to the car park there is a games-tent with racing games, air-hockey and more fun games.

You can try out throwing axes with monitoring and guidance from a staff member and lots of different outside games that you can rent at our register.

We have a very child-friendly environtment but some nights grown ups show up to eat, listen to live music and have different theme-nights.

All of our staff speaks english. Some speak German.

Welcome!